Ultimate Preset Pack (Concert + Everyday Use)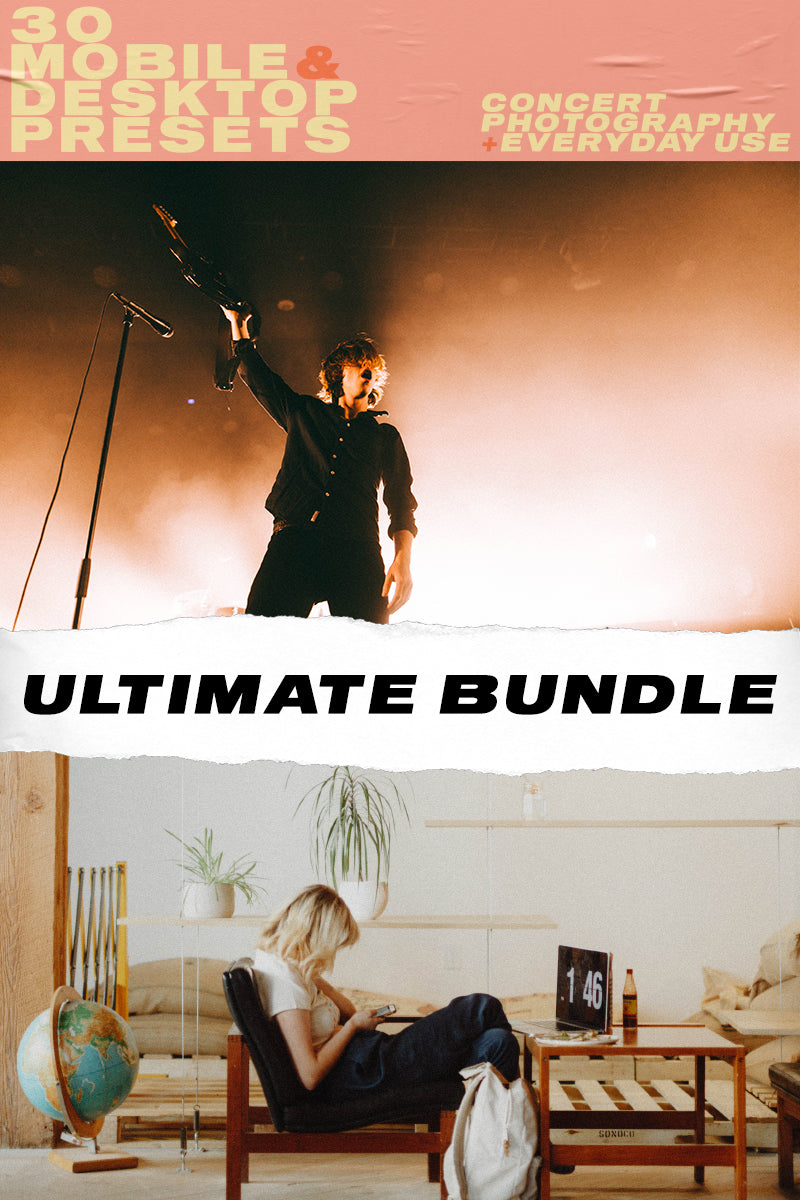 Designer: Lupe Bustos
Concert Photography + Everyday Use Preset Pack
Discounted Bundle Pack pricing

Includes both Concert Presets & Everyday Use

Includes 30 presets for lightroom and lightroom mobile

Includes both (.lrtemplate) & (DNG.) files.

Includes instructional PDF

Additional link for instructions: 

Click here!
WHEN YOU RECEIVE YOUR DOWNLOAD, DOWNLOAD THE ZIP FILE FROM YOUR COMPUTER OR MAKE SURE YOU HAVE EXTRACTING APP LIKE WINZIP!  
----------------------------------
Hello! First off, thank you for purchasing these presets and I hope you enjoy them and use them as much as I do. Every preset is unique as well as every photo, I'd like to think of these as foundations when it comes to editing. When using these presets I suggest messing with the White Balance such as the temperature and tint and then heading Into the tone panel. The Tone panel will do so much for you, tweaking the exposure, contrast, highlights & shadows, etc...all these things are very important when editing photos. All photos are different in the sense some need more attention or some simply just need a few adjustments. Tone Curve is great for bringing out stuff that you wouldn't really think is there such as shadows, diffusing harsh highlights or even adding some fade, it really does so so much to an image. Split Toning and adding different hues to highlights and shadows saves so many images for me, that's another huge thing I recommend, messing with and creating your own split tones. Last but not least is the HSL bars, these are MAJOR when it comes to editing for me. Either boosting certain colors or taking some completely out, the HSL is something I mess within every image.
----------------------------------
Concert Photography Presets:
These 15 Concert Photography Presets are modeled after the last few years that I've spent shooting shows and different bands, every situation is different and the lighting changes so fast, so I tried my best to make these as diverse as possible. Making these  I really thought about what photographers in venues go through, as for lighting and some colors that are hard to manipulate. Enjoy!
(15) Concert Photography: 
⁃ anti-gravity
⁃ daydreams
⁃ green & orange
⁃ grunge
⁃ lightness
⁃ purple to green
⁃ rebel girls
⁃ red to orange
⁃ sad summer
⁃ shadowplay
⁃ summer of red
⁃ sun kissed
⁃ sunburst 
⁃ supernova
⁃ warm glow